We would love you to get in touch
We would love nothing more than to get an email from you!  REALLY!  So if you have ANY questions, concerns, or recommendations, please send us an email!
You may either fill out this form or just email us at info@utilacaysdiving.com.
We pride ourselves on answering your emails within 24-hours so you never have to wait longer than one sleep!  We look forward to getting to know you!
FIND US AT
Utila Cays Diving, Jewel Cay, Utila, Honduras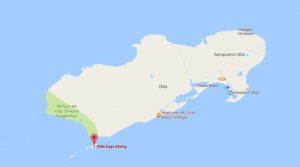 SEND US A MESSAGE
We promise to respond within 24 hours
Getting to Honduras
The coast of Honduras is quite easy to get to from most US Cities in just 2-5 hours.  You can fly into the international airport in Roatan (sister island to Utila) or to San Pedro Sula on the mainland.  From there, it's just a quick 10-25 minutes airplane ride to Utila!  Most major cities fly direct to Roatan and/or San Pedro Sula so getting here is a breeze! 
Find out more here.
Getting to Utila Cays Diving
Once you reach Utila, getting to the Cays is SIMPLE!  We pick you up!  The water taxi ride is about 20 minutes and is absolutely beautiful!  Our friendly captains provide the entertainment on the way to the Cays!  We set everything up via email prior to your arrival, including deposit (via PayPal) and a diver profile, so when you get here, your vacation can begin right away!
FAQs
Anything else you could possibly want to know before you come.